Mackerel Salad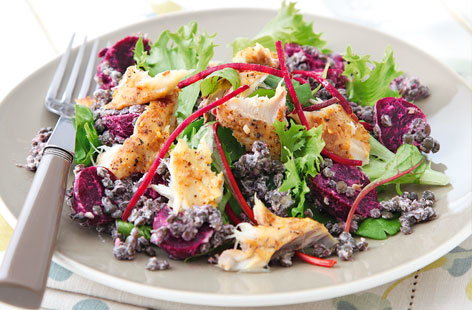 This salad recipe is rather extravagant and too fancy that not only your stomach but also your heart gets overwhelmed. The sunflower seeds, the green beans and the fillents gets wonderfully blended with each other.
Preparation Time: 30 minutes
Servings: 4
Ingredients:
75g smokes mackerel fillets
85g broccoli, cut into small chunks
2 tsp sunflower seeds, toasted
85g green beans
A handful of spinach
For the dressing
75ml yogurt
2 tsp dill, chopped
1 tsp lemon juice
1 tsp mustard
Directions:
In a pot, boil some water with salt.
Add in the green beans and boil for only 2 minutes.
Drain well and place into a bowl.
Into the same pot boil the broccoli for 4 minutes.
Drain well and place into the bowl.
In a small bowl combine all the dressing ingredients.
Add the fillets and spinach into the bowl.
Drizzle the dressing on top.
Serve immediately.